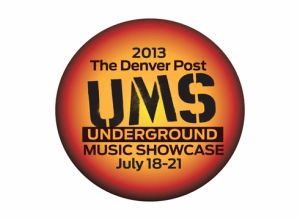 This year's Underground Music Showcase is destined to be one for the books–huge crowds, great bands, and great performances, overall. Day 3 was my favorite so far. I know there were some great performances on the main stage, but I gravitated toward some of the smaller venues, and found lots of "wow" moments in the process. I was a little sparing with pictures this time around, partly to save battery, partly because of poor lighting, and partly because I just wanted to focus on the music. But here are a few highlights from yesterday:
No sooner had I arrived and got settled at Punch Bowl Social but this guitarist phenom set the place on fire. Not literally, but you know. Jaden Carlson is barely a teenager, if that, but she's got the chops and musicality of veterans three and four times her age. I don't know how I've been a part of this scene without seeing her before now. One of the best moments of the UMS for me thus far.
I stayed on at the Punch Bowl to have a hot pretzel and listen to this promising newer rock act, War Over Water. Looking forward to seeing their progress in days ahead.
Headed on over the Gary Lee's Motor Club and Grub for the last few minutes of singer-songwriter Holly Lovell's set. Her mellow style was perfect for sitting in a cool space on a hot, breezy afternoon.
Next up at Gary Lee's was Navy, the latest indie-rock incarnation from Dan Craig (sorry, no pic). Another "wow" moment, I think Dan has stumbled on a great combination with this one. Love the songs, love the vibe.
Patrick Dethlefs did an outstanding acoustic set at South Broadway Christian Church. Loved the slide guitar behind him, and the music sounded awesome in this space. South Broadway continues to be one of my favorite venues of the UMS each year.
Other acts I caught that deserve a shout-out: Hindershot set up a party at Illegal Pete's (although the beach balls reportedly got a little out of hand); Attic Attack rocked the Skylark Lounge; Anthony Ruptak and his band had a great set at South Broadway Christian; and it was good to see Jen Korte and the Loss back in action, packing out the Irish Rover.
ACTS I WISH I COULD HAVE SEEN:
Katie Laurel
Lindsey O'Brien
Jessica Sonner
Sarah and the Meanies
The Epilogues
Shady Elders
Red Fox Run
Wiredogs
Whew! On to Day Four…