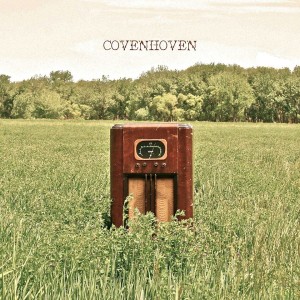 Many in the Denver area are familiar with Joel Van Horne as the frontman for atmospheric indie-rock act Carbon Choir (whom I've profiled here on this blog from time to time). Carbon Choir has since called it quits, and in the meantime Van Horne has taken a completely different direction–toward folk.
His new album is being released under the moniker Covenhoven, named after the log cabin in Wyoming built by his grandfather, where Van Horne spent summers as a kid. "Some of the best and lasting memories of my life are from this place," writes Van Horne on the Covenhoven website.  "This music comes from that place… this refuge that I hold dear."
Indeed, the songs on the record call to mind the places of natural beauty and the fond memories evoked by such a place. With an understated, reflective style reminiscent of Bon Iver, in effect, Van Horne transports the listener to his childhood, allowing us to experience the feeling of a place most of us will never actually see–and yet, we can relate to it because many of us have such a place within our own memories. This is music that is real, because it comes from a very real place, both physically and emotionally.
I have to say, I really like this turn Van Horne has taken. I've had the opportunity to hear him perform acoustic sets from time to time, and have really liked his songwriting style, even while playing unplugged versions of Carbon Choir tunes. While it might seem on the outside to be a drastic change of course, those of us familiar with Van Horne and his songwriting abilities can see this is a natural evolution for him.
Covenhoven will see its official release with a show on Friday, Sept. 20 at The Walnut Room in Denver, but you can sneak a listen to the entire album this week over at OpenAirCPR from Colorado Public Radio. You'll be glad you did.