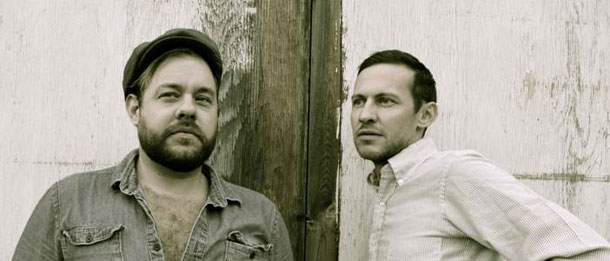 It's December 21. Everyone still here? Good. If you're in Denver looking for some great live shows to attend to celebrate the world not ending, here are a few suggestions to narrow down the many choices available. Here you go…
FRIDAY, DECEMBER 21
Local fans who remember Nathaniel Rateliff's early band Born In the Flood (before he "went national") are in for a rare treat: Born In the Flood is reuniting for a special holiday show tonight at the Gothic Theatre, 3263 S. Broadway in Englewood–along with Nathan & Stephen and In the Whale. Tickets are $18, available from the Gothic Theatre. Service charge may apply. Doors at 7:00 PM; show starts at 8:00. Ages 16+.
Colorado-based national pop act OneRepublic is headlining "Denver Acoustic Christmas: A Concert For Charity" at the Ogden Theatre, 935 E. Colfax in Denver. Also appearing are Big Head Todd & the Monsters, Flobots and Zach Heckendorf. Proceeds will go toward Children's Hospital, Food Bank of the Rockies and Denver Santa Claus Shop. Lower-tier admission tickets are sold out, but General Admission tickets are still available at press time for $85 each through AXS; also, VIP tickets (including a meet-and-greet with OneRepublic) are still available for $150 each here. Service charges apply. Doors at 6:00 PM; show starts at 7:00. Ages 16+.
SATURDAY, DECMEBER 22
Channel 93.3's annual Hometown For the Holidays local band competition finale show will take place Saturday night at Casselman's, 2620 Walnut Street in Denver. The Top 10 Bands (listed below) were announced at Not So Silent Night 2012 last week; the Top 3 (tba Friday at 5:00 PM on Channel 93.3) will perform at Casselman's, at which time the winner will be announced and prizes awarded. Doors to this show open at 7:30 PM, but it is a FREE show, so get there early to get a place in the building. Ages 21+.
The Top 10 bands for this year's Hometown for the Holidays are:
My Body Sings Electric
NAVY
Reno Divorce
Monroe Monroe
Rachel and the Kings
Chemistry Club
Vetta Star
The Photo Atlas
MEDIC
Foxfield Four
Have a great weekend!