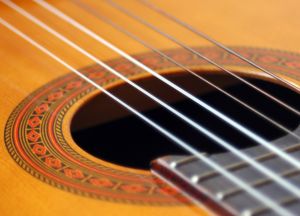 I'm beginning to realize that the "songwriters circle" format is one of my personal favorites when it comes to live shows. When you have an intimate setting in which a group of singer/songwriters share their songs in turn, it offers a window into the souls of the artists that doesn't always show up when someone is just "playing a show." It can also breed a strong sense of connection among the artists themselves, as well as with the audience. I could keep analyzing the crap out of it, but let's just say songwriters circles move and inspire me probably more than any other kind of show.
The latest installment of the Colorado Songwriters Circle was held last Friday at Swallow Hill, an established Denver music institution and venue that celebrates roots music through concerts and classes. One of the songwriters (John Common) I know and count as a friend; the other three (Matthew Moon, Nina Story and Melissa Ivey) I recognized as part of the Denver scene, but had not yet had the privilege of hearing. But hearing four of Denver's finest songwriters sharing their songs on stage (and sharing the stories behind their songs) felt like a privilege in itself. They are four very different artists, with different styles, but the diversity among them worked exceptionally well on the stage.
And each one of them knocked it out of the park.
No kidding. I laughed. I cried. (Quietly. Only a little.) I laughed. And I enjoyed. Every. Moment. From Melissa Ivey's self-proclaimed "gypsy rock" vibe, to Matthew Moon's stunning performance on a lap steel, to John Common's self-deprecating comedic timing, to Nina Storey singing in French.
Oh. And the songs they wrote were pretty awesome, too. Some older "fan favorites" and a lot of freshly written material, also. Well, crafted, and well-performed, all in a relaxed setting that made us feel almost like we were sitting in someone's living room. With a lot of instruments.
The evening was further enhanced by Denver "live artist" Laurie Maves, who created a painting of the artists live as they performed during the first half of the show. During the midpoint, the painting was auctioned off to benefit the Children's Hospital.
On the whole, this songwriters circle at Swallow Hill embodied all the reasons why I love to go to shows: great music, terrific performances, and overall good entertainment. But mostly, good songs. As a songwriter myself, I know I've heard a good songwriter when I come away inspired to write. Friday night, I was inspired times four. All of these Colorado artists are worth checking out, listening to, and buying their music.