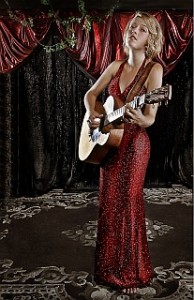 Gabrielle Louise is a best-kept-secret kind of singer/songwriter: not widely known, but when you hear her, you wonder why more people don't know her. A young artist with an old soul, her jazz-infused folk style reveals a maturity that belies her years. Coming from a musical family, and with several DIY recordings already to her credit, she has the confidence of a seasoned pro.
Gabrielle's latest latest effort, Mirror the Branches (due to release later this month), lives up to the standard of excellence those of us who know Gabrielle's work have come to expect. At times light and airy, at other times low, jazzy and smoky, her vocals throughout the twelve-song collection are expressive and nearly flawless. The record covers a range of emotional ground, from the melencholy of "Desiree" to the tongue-in-cheek whimsy of "I'll Turn Myself In Tomorrow". Led by acoustic guitars, the instrumentation is understated, the overall tone reflective.
For me, the strongest songs are the folk-heavy tunes–and I admit a bit of bias here, as I prefer folk to jazz. The simple melody of "Strange Summer Snow" embeds itself deep in your brain (in a good way), and "Midnight Molasses" (a cover tune borrowed from Gabrielle's partner-in-crime David Rynhart, who also contributes vocal and guitar on the record) is a deeply haunting tune that leaves me breathless each time I hear it.
Gabrielle is currently raising funds for the final printing of the CD, and for a minimum $25 contribution she will give an immediate download of the full recording, plus a hard copy of the CD when it is officially released.  You can get your exclusive download copy at Gabrielle's website.  And for those of you in driving distance, Gabrielle Louise is having a CD release and social tango party (again, you have to know her) on Friday, August 27, 7:30 PM, at Aron Johnson's Architectural Antiques Warehouse, 389 S. Lipan St. in Denver.