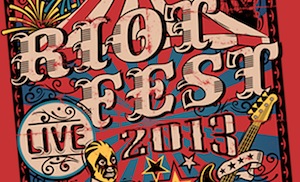 Been a couple of weeks or so since I posted weekend picks–went on vacation, then had to recover from vacation, you know how it is. Then last week, there was a catastrophic flood affecting many areas around our community. (Please keep this area in your thoughts and prayers during the next several months as it's going to take awhile to recover.)
But there's a lot to talk about in the Denver area this weekend regarding live music. If you can't swing the time or money to catch RiotFest (info below), there are still some great shows to see around town. Here are just a few suggestions to get you started.
FRIDAY, SEPT. 20
Indie-folk act Covenhoven (aka Joel Van Horne, formerly of Carbon Choir) will be having a much-anticipated CD release show at The Walnut Room, 3131 Walnut St. in Denver. (See more information about the new project here.) Also appearing are Poet's Row and Megan Burtt. Tickets are $10 each, available from The Walnut Room; service charge may apply. Doors at 8:00 PM. Ages 21+.
Denver rockers The Epilogues are returning from a multi-state road tour for a show Friday at the Hi-Dive, 7 S. Broadway in Denver. Also appearing are The Echo Chamber and Viretta. Tickets are $8 each, available from the Hi-Dive (service charge may apply). Doors at 8:30 PM; show starts at 9:30. Ages 21+.
SATURDAY, SEPT. 21
Speaking of the Hi-Dive, go back Saturday night to see Patrick Dethlefs' 7″ release show, with a free 7″ vinyl record with each ticket purchase. Opening acts include Ark Life and Kristi Stice. Tickets are $12 advance, $14 day of show, available from the Hi-Dive; service charge may apply. Doors at 8:00 PM; show starts at 9:00. Ages 18+.
BONUS PICK: RIOTFEST SEPT. 21-22
RiotFest is coming to Denver this weekend, and thankfully, the flooding rains did not affect the festival grounds, so the show will go on, a short drive east of town at May Farms, 6401 US Hwy 36 in Byers. The lineup for the tw0-day event is impressive, featuring some of the biggest names in punk, alternative and modern rock: The Replacements, Iggy and the Stooges, Blink-182, Brand New, AFI, Public Enemy, AWOLNATION…over 3 dozen acts in all. Included in the lineup are performances from several Denver-based bands, including DeVotchKa, Breathe Carolina, Bop Skizzum and Wovenhand. Tickets are still available through the RiotFest website, staring at $54.98 for a one-day pass and $99.98 for a two-day pass; service charges apply. Camping is available for an extra charge. This is an all-ages event! For all the deets, visit the RiotFest website.
Have a happy and safe weekend!