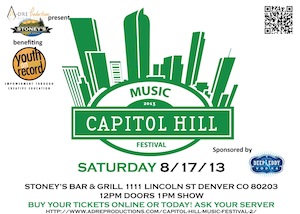 This weekend in Denver is packed with great live music,  just as summer heat makes a comeback. There's a lot to go over, so let's get right into this weekend's live music picks:
FRIDAY, AUGUST 16
Local indie-rock outfit Eldren are headlining a show at the Bluebird Theater, 3317 E. Colfax in Denver. Opening acts include The Yawpers, The Foot. and Pull the Alarm. Tickets are $15 each, plus service charge, available from Bluebird Theater and AXS. Doors at 8:00 PM; show starts at 9:00. Ages 16+.
Chicago alt-rock band Fletcher and local indie-rockers Wire Faces are co-headlining a show at  the Hi-Dive, 7 S. Broadway in Denver. Also appearing are Confluence and War Over Water. Tickets are $6 each, available from the Hi-Dive; service charge may apply. Doors at 8:30 PM; show starts at 9:30. Ages 21+.
SATURDAY, AUGUST 17
Saturday's a big day for all-day music events in Denver, and we've got two to tell you about here.
The 1st Annual Capitol Hill Music Festival will take place Saturday at Stoney's Bar & Grill, 1111 Lincoln St. in Denver, with some of Denver's best talent playing on two stages throughout the afternoon and evening. Featured acts include The Railbenders, Birch Street, Places, Vices I Admire, Take to the Oars, Red Fox Run, Rebel Tongue, Attic Attack, Lionized and more. Tickets are $20 advance, $25 day of show (plus service charge), and can be purchased here. VIP passes (including food buffet and all you can drink) are also available. First performance starts at 11:45 AM. No age limit listed on the event, but everyone will be carded.
The Cultivate Festival, an annual event sponsored by Chipotle Restaurants, features chefs, artisans, farmers and great food to raise awareness for sustainable, wholesome food. Great music is also part of the event. The Denver Cultivate Festival will take place at City Park on Saturday, and will feature performances by several national acts, including Cold War Kids, Blitzen Trapper, Good Old War, Allen Stone, Chris Golub and Denver's own Air Dubai. Festivities kick off around 11:00 AM, and run all the way to 7:00 PM. Best of all–it's FREE and open to the public.
Have a happy and safe weekend!