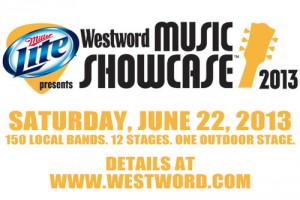 While live shows are abundant throughout the Denver metro as usual, two specific music festivals make up this weekend's live music picks, due to the sheer number of acts playing in a small area, the value for the price, and the overall awesomeness level.

FRIDAY, JUNE 21–MAKE MUSIC DENVER
In 1982, France established its annual Fete de la Musique, an open-air, free music festival in honor of World Music Day. Since then, more than 500 cities have begun participating globally with free outdoor fests of their own. The Mile-High's version is Make Music Denver, a day-long open air music celebration with local musicians performing up and down all along the Sixteenth Street Mall downtown from 8:00 a.m. to 8:00 p.m. today (Friday, June 21). Watch for live performances today from Vices I Admire, Confluence, PJ Zahn, H*Wood, Ryan Chrys, Tequila Mockingbird, Caleb Slade, the Colorado Symphony Quartet and many others. This is an all-day, FREE event! For details see the event website.
SATURDAY, JUNE 22–WESTWORD MUSIC SHOWCASE
Now in its nineteenth year, the Westword Music Showcase is touted as Denver's largest one-day festival, and with good reason. Nearly 150 acts (including some of Denver's best local talent) hitting 13 stages throughout the Golden Triangle area all afternoon and evening Saturday, for less money than it usually costs to see one concert. The main outdoor stage at 11th and Acoma will feature headliners such as Trampled by Turtles, The Mowgli's, Dada Life, Nunchuck, Denver's own My Body Sings Electric, and more. Other local bands performing through the day include Glowing House, John Common & Blinding Flashes of Light, I'm With Her, Rachel and the Kings, Princess Music, The Knew, The Epilogues, Foxfield Four, Bop Skizzum, In the Whale, SHEL, Something Underground, The Congress, The Raven and the Writing Desk and a host of others. Advance wristbands are currently $38, available here or at the box office near 12th and Acoma, and covers admission to all shows. VIP wristbands are also available. Tickets go up in price the day of the event, and it tends to sell out, anyhow–so if you want to attend, get tickets now rather than later. The main outdoor stage is all ages; most of the other venues are 21+, with the exception of Curious Theater and Rooster & Moon, both of which are listed as 18+ venues. Music starts around noon and continues well into the evening. For all the details, visit the WMS website.
The weather is scheduled to be sunny and hot all weekend, so wear sunscreen, drink lots of water, and go easy on the booze if you're planning to spend lots of time at the outdoor stage. Have a fun and safe weekend!