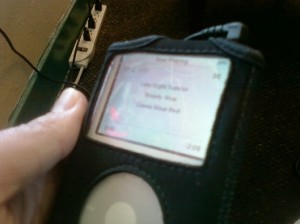 In case you're new to this here blog (or to my other blog, The Developing Aritist)…you might be wondering about the occasional "LOCALS ON SHUFFLE" updates that appear in my Twitter feed on the sidebar.
Simply put, I'm a fan of local music.  When I get hold of a recording made by a band or artist from Denver or the surrounding area, I typically like to put it on my ipod.  Most of the time when I get the chance to listen to my ipod, it's on shuffle–so when a local act comes up on my shuffle, I tweet about it.  And because all my stuff is linked together, those tweets show up on Twitter, on both blogs, and on my Facebook.  So basically, if you're a local band or artist, and I get some of your music on my ipod, you get some free shout-outs across my local network.  Not bad, huh?
By the way, the same holds true if you're an indie artist from somewhere besides Denver.  If I put your stuff on my ipod and it comes up on shuffle, I send out a similar Tweet: "INDIES ON MY IPOD".
Of course, the way to get on this highly-coveted ipod shuffle rotation is to make sure I have your music.  It's at my discretion–after all, it IS my ipod–but as I said, I'm a fan, so most of what I get eventually shows up on the shuffle. Instructions for music submissions, either by download link or by mail, can be found by clicking here or using the "Submissions" tab above.