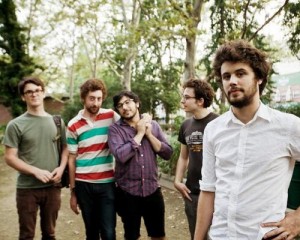 Yep, it's not just a new month, it's the weekend–and Denver has lots of great live gigs going on as usual. If you need help narrowing down your choices…well, that's what we're here for. You're welcome.
FRIDAY, MAR. 1
Synthpop act Passion Pit is making a tour stop at 1stBank Center, 11450 Broomfield Ln. in Broomfield. Opening the show are Matt & Kim. Tickets are $35-$40, available from TicketHorse. Service charges may apply. Doors at 6:30 PM; show starts at 7:30.  This is an all-ages show.
Folk rocker Dan Tedesco is also stopping in Denver on tour, at The Walnut Room, 3131 Walnut Street in Denver. Opening the show are local acts Sarah & the Meanies and Shelby Britton. Tickets are $8, available from The Walnut Room; service charge may apply. Doors at 7:00 PM. Ages 21+.
SATURDAY, MAR. 2
Local indie rock acts Foxfield Four and Petals of Spain are having a dual CD release show at the Moon Room at Summit Music Hall, 1902 Blake in Downtown Denver. Also appearing are Vetta Star, Viretta and Leftmore. Ticket are $8 advance, $10 day of show, available from Soda Jerk Presents. Doors at 7:00 PM. This show is all-ages.
EXTRA TIP: If you're into Denver music and "secret shows" with news spread by word-of-mouth and social media, you might want to hang out at Lost Lake at 3602 E. Colfax this weekend. Word is that Nathaniel Rateliff's old band Born In the Flood will be playing a set there Friday night, and Dan Craig's new band NAVY will play there Saturday night. Just saying…