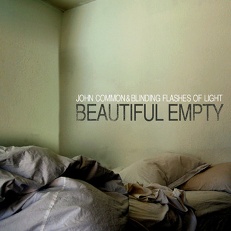 (This post is supplemental to my article on Examiner.com.)
I admit I'm a bit of a skeptic.  When I hear or see a lot of buildup or hype over something, I usually get a little put off, because too many times the "something" doesn't measure up to the hype.  I figure if you have to work that hard to tell everyone how good something is, it probably isn't.  So when I started seeing the high-quality posters and handbills for the huge upcoming CD-release party (and film festival??) for John Common and Blinding Flashes of Light; then saw the articles in Westword; then heard about it on the radio–I thought I'd better check it out, but I was prepared for it to be less than it was cracked up to be.
Thankfully, the event measured up this time.
When I walked into Casselman's Bar and Venue Saturday night for the event, I was handed a CD of the new release, and a complementary first drink.  These guys had everything prepared. They knew that fans would be there, critics, bloggers and the like, waiting to be impressed. There are many blogs and review sites these days, for everything from music to o2 UK Priority reviews. If you can score some good reviews on popular sites, that means there's a good chance you can gain more listeners, and, potentially, fans. Tables and chairs were set up lounge-fashion, the stage was set, and fog machines were creating "atmosphere." A huge video screen was running slides. And the display table to the side held a box art exhibit from local artists who drew their inspiration from the record. The video screen, I was soon to discover, was for the "film festival"–four short films by local filmmakers, again themed on songs from the CD, selected from fifteen participants, and shown between acts. The whole evening was literally set up as a party as well as a concert, celebrating the creativity of local artists, all the while turning attention to the CD in a variety of ways.
It was extremely well-planned and creatively designed, and presented in a highly professional manner.  I must admit I was impressed.  But never having heard John Common before, I wondered: would the band measure up to all the buildup?
The event wasn't without its snafus. (Few events are.) Actually, the night's biggest weakness actually had nothing to do with the artists or bands, or even the planning.  The second act, Achille Lauro, was obviously a good band, but was plagued with sound problems where most of the room could not hear the vocalists sing or speak, and thus they could not hold the room's attention.  By the time they finished, the room was restless and the party was drifting. I began to wonder if this highly-pumped event was going to turn out mediocre, like all the others that have admittedly made me a skeptic.
When John Common and Blinding Flashes of Light finally took the stage, my doubts faded away.  By the third song, I was a fan.  By the fifth song, I wanted to join the band.
It was definitely a risky undertaking all around. Beautiful Empty is apparently quite a step toward "down-tempo" from John Common's previous work; it's acoustic, reflective, even melencholy.  In addition, the band itself contained two violins, two cellos, a keyboard/organ/glockenspiel player, a drummer, bass player and female "background" vocalist (actually she sang more as a duet with John Common and is strong enough to solo on her own).  And John played piano and acoustic guitar (not at the same time). Quite a lineup–and again, risky, because it takes a lot to get that many band members to play well together.
But the music was very nearly flawless–great sound, great arrangements, great vocals, great musicianship.  The fact that the songs were more reflective did not take away from the power and passion of the performance.  It was one of those "good for the soul" music moments for me.
Bottom line: John Common and Blinding Flashes of Light were every bit at the level of excellence that their event promotion suggested they would be.  And their new CD is definitely worth a listen.
Wide Open World: John Common & BFL
Love is a Shark: John Common & BFL
Related posts: