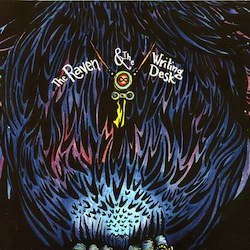 I've heard so many hyphenated names trying to describe this band's sound that it's almost funny. Art-rock. Avant-pop. Orchestra-rock. Chamber-pop. I referred to their sound as "musical literature" in my first post about them. I could come up with a few others, too: cabaret-pop-rock, avant-goth-pop…you get the idea. Or do you? That's kind of the point…
Whatever hyphen-heavy terms you grab from the vocabulary arsenal, Denver-based band The Raven and the Writing Desk have carved out a niche for themselves with a collective sound so diverse it obviously requires a writer like me to keep a thesaurus handy. And they have carried this trend even further with the release of their latest, a split EP called Scavenger/Bonedale.
Existing TRATWD fans will recognize at least half the songs on this 6-track record. That's the "Bonedale" part, essentially a re-working of their earlier Bonedale EP, previously available only in digital form. The "Scavenger" part consists of three new songs (hence, the "split" EP). Put them together, and the band pack more energy into those six songs than you'll find in many full-lengths.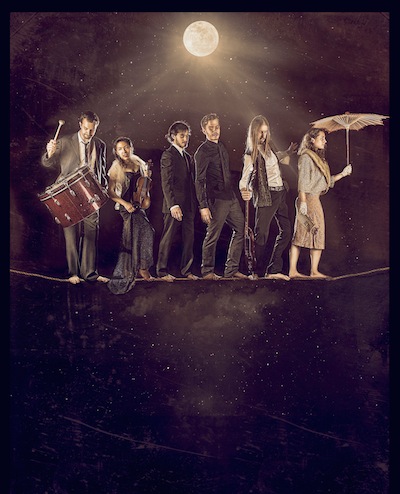 A listen to the record is much like watching them live. It goes sort of like this: one minute, you're hearing a gypsy-tinged dance number that makes you want to practice your high kicks. (That is, if you had high kicks to begin with. Which I don't.). The next, you're diving into a satisfying, soul-scratching blues-rock riff courtesy of guitarist Scott Conroy. Tasty marimba (never thought I'd use those two words together) from Neil Mitchell and haunting violin parts courtesy of Adrienne Short fill out the sound, and Julia LiBassi's vocals flow with such expression and emotion that they belie the fact that she's actually sitting behind a keyboard rather than flying across the stage. It's theater, vaudeville, carnival, circus, orchestra, and rock-and-roll all rolled into one, and somehow this sextet makes everything sound like it all is supposed to go together. (Can you see why the hyphens are necessary?)
The thing is this, and I think I've said this somewhere before: The Raven and the Writing Desk are better listened to and experienced than described and talked about. Which makes me feel kind of stupid as a blogger, since describing them is exactly what I'm trying to do. (Seriously, I think the band has made a habit of collecting hyphens. I think they get a kick out of defying description.)
So I'll shut up now. Just listen to this.
The Raven and the Writing Desk is:
Julia Libassi – songstress, lead vocals, keyboards
Scott Conroy – guitars
Neil Mitchell – marimba, percussion
Adrienne Short – violins, harmonies
Kramer Kelling – bass
Matt Murphy – drums