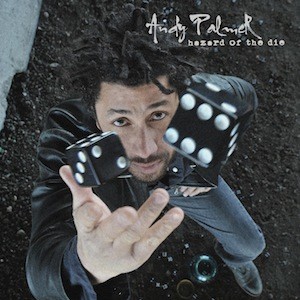 I'm waaay behind on my music listening this year (watch for some changes to The Oomph in the upcoming months), but I could not let 2013 go by without letting you know about one of the best folk-rock releases to come out of Denver this year: Andy Palmer's Hazard of the Die.
I first introduced you to Andy Palmer's gravelly, Tom Waits-esque voice a couple of years back. Since that time, Palmer has continued to mature both in sound and in songwriting, and the proof is found in Hazard, carrying an innovative blend of folk and rock elements (evidenced by everything from a plucky string bass to some searing electric guitar work), and a storytelling songwriting style that belies Palmer's age. (I don't actually know his age, just that he's younger than me. I think.) The record clocks in at just around 30 minutes (a long EP or a short LP, take your pick), but each of the eight songs is packed with character and will merit repeat listens. Favorite moments for me include "The Monk," "Heart of Colfax" (which contains some of that searing guitar work I mentioned), and "The Defendant," a colorful look through the eyes of the accused ("Luck is hard if you have my life / And a man in a robe…is rolling my dice." Love that!) Oh, and the production work from industry vet Warren Huart (Aerosmith, The Fray, Howie Day) doesn't hurt one bit.
Andy Palmer is currently offering Hazard of the Die on a name-your-price basis on his Bandcamp page–and it's definitely worth naming a decent price. Meanwhile, check out the video for "The Monk" below and see what you think.