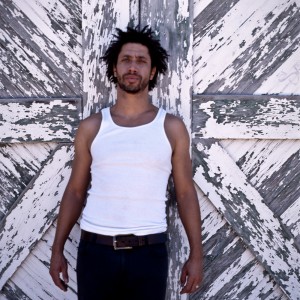 Let's begin at the beginning: Andy Palmer can't sing.
I'm serious.
Think Bob Dylan. Think Tom Waits. Think Johnny Cash near the end of his life. That's singer/songwriter Andy Palmer. All through his record Sometime Around (released under the moniker "Palmer"), he growls, squeaks and strains through the lyrics with a voice that sounds at times twice his age, almost like he spent the last ten hours screaming at the top of his lungs, or like he's been smoking three packs a day since he was four.
Having said that…his record is excellent.  Sometime Around has high production value and a gritty, folk-rock vibe that stays with you after the songs end–and Palmer's squeaky/gravelly vocals are just the icing on the cake.
You see, one does not have to achieve vocal perfection in order to be memorable. Solid musicianship, compelling songs and a passionate delivery can often grab and hold a listener's attention even better than a perfectly executed vocal. Some of the world's best performers and songwriters can utterly captivate their audience while barely carrying a tune in a bucket.
Think Bob Dylan. Think Tom Waits. Think Johnny Cash, even back when he could sing. That's Andy Palmer.
Now, don't misunderstand: I'm not equating Palmer with the stuff of legends–not yet, anyway. This guy is still near the beginning of what could be a long career, and has plenty of room to grow. But besides solid writing and great guitar work, the one thing he's got going for him is that he's memorable, and in a good way. Palmer can't sing–but he also doesn't sound like anyone else you've heard, which gives him an open field. Not legendary yet–but certainly there is enough musical substance here that gives Palmer the potential to connect with a larger audience.
Andy Palmer currently heads up a band in the Denver area called Grub Street Writer, and while his record doesn't officially release until the fall, it's actually available now on a name-your-own-price basis from his website. So if you like the sample track below, go pick up the rest of it.