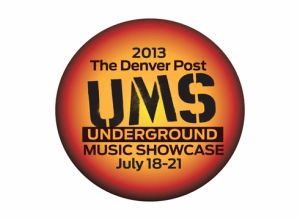 I'll make this simple: the place to be in Denver for live music this weekend is the Denver Post Underground Music Showcase 2013, which kicks off this evening (Thursday) and runs through Sunday throughout Denver's Baker district.
Over 400 bands. Nearly two dozen venues. Four days. $50. Best live music deal in Denver, and it only happens once a year.
Headlining acts at this year's UMS include Mudhoney, Small Black, Cults and Lord Huron, among others. While these shows promise to be awesome, some of the best stuff happens in the smaller venues, with smaller indie bands. Not to mention some of the best local talent Denver has to offer. The lineup is to massive to mention, but just a few of the local acts include The Epilogues, Ark Life, Princess Music, Born In the Flood, The Centennial, Varlet, The Raven and the Writing Desk, Vices I Admire, and many, many others. (A full lineup and schedule can be found at the UMS website.)
A limited number of wristbands and VIP badges are still available, so if you're in town and haven't gotten yours yet, you can pick it up at the UMS box office (located a 1 S. Broadway tonight, and at 21 S. Broadway for the rest of the festival). Four-day wristbands are only $50, and VIP badges (offering extra perks) are $120. I'll be live-tweeting throughout the weekend, so follow me at @jeffmcq if you want updates.