*Sigh* I love the Denver music scene.
The Underground Music Showcase 2012 is officially a wrap, and lots of bands, artists and music fans now have that satisfied-but-exhausted feeling that comes at the end of every one of these things. Here's a quick recap of some things seen and heard on Day Four.
One thing I love about the UMS is finding little "hidden treasures"–great music from artists that are just emerging or that aren't that well-known as of yet. While great acts like Paper Bird and Nathaniel Rateliff (pictured left) were drawing crowds to the main stage, lots of great music was happening in front of smaller crowds in venues all up and down Broadway.
The first pleasant surprise I found was Stephanie Dorman, a newbie to the Denver music scene who played a solo set at The Hornet. I went on the recommendation of one of the members of Churchill, and I'm glad I went. Stephanie has a current voice and a great songwriting style. I look forward to hearing more from this one.
A bit later in the evening, singer/songwriter Kyle James Houser played a great solo set at Delite. He played an electric banjo, something you don't see every day. The people outside on the street liked it, too.
Another cool moment was watching Rachel and the Kings' Denver debut on the main stage. This band consists of several Colorado music scene veterans, including Rachel James and members of the now-defunct (sort of) Tickle Me Pink, and recently beat out hundreds of other bands to win the Ford "Gimme the Gig" band competition. Their set showed us why. While still quite unknown in the Denver area under this moniker, R.a.t. Kings played some great music for the sparse but growing crowd, and excitement built for the band throughout the set.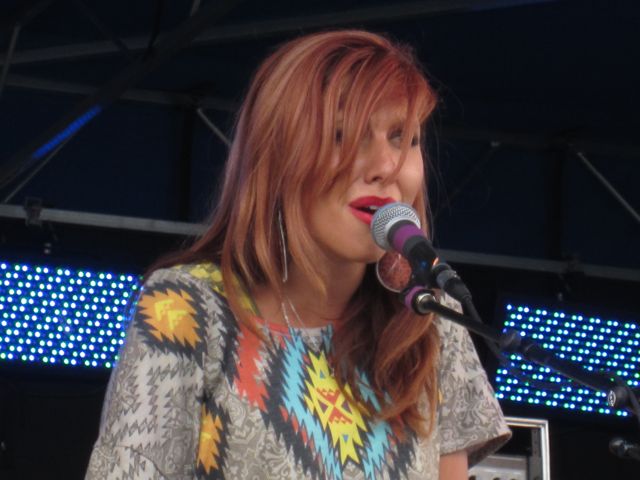 Glowing House is another up-and-coming Denver act with a promising future. (I profiled their recent album here.) During their set at South Broadway Christian Church, they joked good-naturedly about their unfortunate time slot, playing at the same time as veteran indie-folk artist Nathaniel Rateliff, who indeed packed out the main stage area. However, those who sat in on the Glowing House performance got to experience a great set of music. (I would have included a picture, but the lighting was too dim by that time for my little point-and-shoot without flash.)
Other high points of the day included rocking sets at the Skylark Lounge by Megan Burtt and Jen Korte and the Loss, plus Dan Craig and The Centennial at the Irish Rover. Another great moment was when Science Partner's jam session at Delite wafted into the streets and drew a large crowd to the open window to see, even while there was standing room only indoors.
I've had the privilege of attending the Underground Music Showcase for the past three years; this was the best one so far. It felt as though everyone stepped up their game, from the novices to veterans, and gave their all for the music fans.
Have I mentioned I love the Denver music scene?