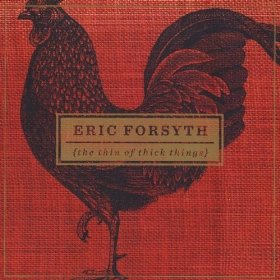 The Thin of Thick Things.  Say that five times fast.
No, don't.
Boulder pop-folk singer/songwriter Eric Forsyth is releasing his second project on September 21, a six-song EP called The Thin of Thick Things.  My advance copy has been in my ipod shuffle rotation for a few weeks now, and when one of Forsyth's songs comes up, it is one of those moments when I go, "Wait…what song is that??"  Eric Forsyth's sound is comprised of an intriguing blend of impressive acoustic-roots-folk guitar work underneath, overlaid with Forsyth's surprisingly smooth, soulful vocals.  It isn't what I'd call groundbreaking, but it's just plain good music.
So…is it thick, or is it thin?
Well, both, actually. 
On the arrangement side, it's thin–meaning sparse, not substance-less.  The tracks are mostly acoustic guitar and vocals, with the occasional bit of mandolin–and while it would do just as well with bass and drums, the sparse instrumentation carries it off just fine.
On the emotional and lyrical side, it's a little more thick–but not too thick.  Sometimes whimsical, occasionally reflective–autobiographical, even–Forsyth has drawn from both positive and negative recent life experiences to craft the lyrics of the record.  His honest writing gives the recording a decent amount of depth for a six-song effort.
So, yeah, it's both thick and thin.  A pretty good balance, actually.
If you're in the Denver/Boulder area, you'll get the chance to experience the thin and thick for yourself. Forsyth will be doing a CD release show on Saturday, September 25, at The Laughing Goat on Pearl Street in Boulder.  Helping him out will be the new duo formed by Megan Burtt and Ayo Awosika, Travel | By | Skylark.