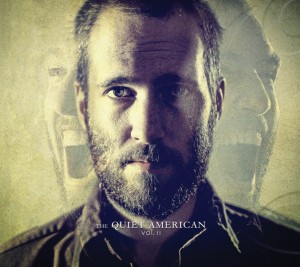 Many people might be more familiar with the name Boulder Acoustic Society than they are with the name Aaron Keim. That's because Boulder Acoustic Society has been making a name for itself as a progressive band in the bluegrass/roots/neo-folk world over the past several years.
But Keim (who happens to be the founder of B.A.S.) goes by yet another moniker when he's flying solo: The Quiet American. And as The Quiet American, he has just released his second solo project, aptly titled The Quiet American, Vol. II. And if you listen to the record, and know a little of his story, you'll discover that Aaron Keim is an old soul putting a modern twist on folk.
Perhaps the most interesting aspect to Keim's work is that he literally brings history to life in the way he tackles his music. First of all–he makes most of his own instruments.  Secondly, the first installment of The Quiet American was initially recorded on a wax cylinder from the 1890's (the new release uses more modern methods, but has a historic feel, nonetheless). And third–Keim isn't afraid to weave traditional bluegrass tunes in with his original stuff.  Vol. II has a healthy blend of both.
And yet, somehow in bringing the past to life, by weaving subtle modern indie-rock elements into his stuff, Keim breathes new life into the music–and what is old is new again.  Pretty amazing, when you think about it.
But don't take my word for it.  Have a listen to the opening track below.
The Quiet American: "I Will Be the One"