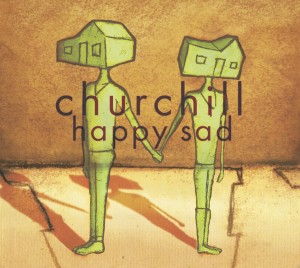 A few weeks ago, I talked about the anticipation I've had about Churchill's long-anticipated release Happy/Sad. After getting hold of the full recording, I'm "happy" to say the songs have more than met my expectations. (Read a review here.) I'm even happier to say that as of today, you can get the record on iTunes–or if you're a Denver local, you can pick up a hard copy at Twist and Shout Records.
Denver hometown boys The Fray graciously lent their personal recording studio for the tracking of Happy/Sad, which (as the album title suggests) explores the range of human emotions, particularly in the context of relationships. Besides the overall sound and chemistry of the band (of which I was already a fan), what I like best about this record is the songwriting. Creative lyrics and catchy melodies that stick in your head. After listening to this record just once, for several days afterward I woke up in the morning with several of these songs playing in my brain's auto-shuffle. Along the first single "Miles" which I shared here, personal faves are "We Used to Be Happy," "Loud," "The President," and "Think It Over." The song "Burn It Down" is also heading to the top of my list. But really, imho, there's not a bad song on the record.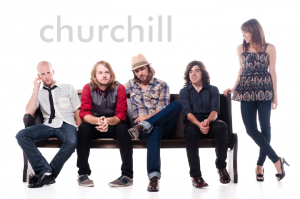 Here's another tune from Happy/Sad which I think you'll enjoy. If you like it, go download the record from iTunes.  And if you're in the Denver area this Friday, Feb. 11, be sure to check out their CD release party at the Hi-Dive.
Churchill "We Used To Be Happy"