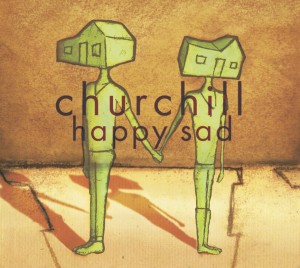 I gotta tell ya–I haven't been this excited about an upcoming release in quite some time.
I've had a few good things to say about Churchill over the past year or so, and it's no secret that I'm a fan–and judging from the turnout at their shows, it's clear I'm not the only one.  Since they began playing together just under two years ago, armed with only an EP in a slipcover and a lot of heart, Churchill has turned a lot of heads with their distinct sound, winning lots of fans along the way.
Truth be told, the fans are a huge reason why the band's first full-length album Happy/Sad is finally set for release on Feb. 11.  The record has been funded almost entirely by Churchill's fan base, thanks to crowdfunding site Kickstarter.
This is a record nearly a year in the making.  When I had the privilege of interviewing the band for Examiner.com last spring, they played me a couple of demos they'd thrown down for the record.  I've literally been on pins and needles waiting for this thing to come out ever since.  Okay…maybe not literally on pins and needles. But you get the idea.
I'm a veteran/skeptic, and it takes a lot to impress me. In my opinion, Churchill has stumbled on more than a sound.  There's a chemistry here the likes of which I haven't seen/heard in some time. Whatever that intangible X-factor is…they have it.  Churchill has…the OOMPH.
The first single from the upcoming record, "Miles", is now up for sale on iTunes.  Take a listen to the song below, and if you like it, go get the single.  Gauging from this first song, the rest of the album will be worth the wait.
Churchill – Miles by wirebird
Buy "Miles" on iTunes: