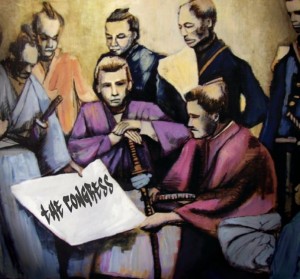 Typically, when a band labels themselves "Americana", there is a certain amount of expectation as to what it's going to sound like.  So when Denver-based "Americana" band The Congress sent me their self-titled EP for review, I got a bit of a surprise.  T'weren't at all what I expected.
Don't get me wrong. This is Americana; they haven't mis-labeled themselves.  It's just that sometimes we forget that our roots aren't just folky; there's a bit of fried chicken and soul mixed in there, too.  This is the part of America that The Congress captures–the blues/jazz/rock part–and the result is that mmmm-hmmm satisfying kind of music, like soul food (blue-eyed soul, to be exact)–or like a really good back scratch.
This band is relatively new, but it's apparent these guys aren't novices.  This record has a foundation of rock-solid musicianship and equally-solid songwriting, overlaid by near-flawless vocals.  This is an indie band that isn't striving to be edgy–just really good. And they are.
The only potential downfall I found with the record isn't with the quality itself. There's a smooth Hammond B3 throughout the record that really helps define the record's sound; the only problem is, there is no organ player in the band.  That part was added by co-producer Daniel Clarke, who isn't part of the band. Thus, while this is definitely a solid recording, one has to wonder whether it is true to the band's actual sound.  Of course, seeing them play live (which I plan to do) could settle all those questions; just saying.
Anyhow, check out The Congress and see what you think.
If you like this band, buy their EP on iTunes.