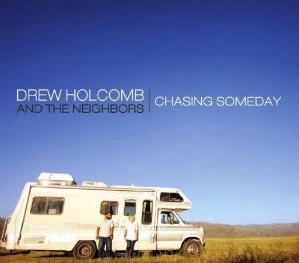 Okay, so I'm a sucker for a great hook.  I admit it.  Don't judge.
Drew Holcomb and The Neighbors is an up-and-coming indie-rock band, and hailing from Nashville, you can definitely hear the country sensibilities in their sound. But that's not what won me over.  The opening track on their brand-new record Chasing Someday had me at the first few bars. "Fire and Dynamite is a simple love song, very catchy–the kind of song that makes you want to drive with the top down. And definitely the best song they could have opened with–a powerful first impression. Take my word for it–this song is a hit in the making.
The rest of the record ain't bad, either.
Produced by Andy Hunt, with additional production credits by veteran Nashville producer Brown Bannister, Chasing Someday has great production value and plenty more catchy hooks. But don't confuse "hooky" for shallow.  While the record does suffer once in awhile from overly simplistic lyrics, there are also some really deep and moving moments. Besides "Fire and Dynamite", personal faves of mine are "Live Forever" and the last song, "Weight of the World."
Drew Holcomb and The Neighbors has been around for a few years and seen a bit of success, having their music appear on TV shows like "Parenthood" and "Oprah," and currently touring with Marc Broussard. But this record is a marking point for them. They might be chasing someday, but IMHO, "someday" has already arrived for this band. It's just a matter of time before the rest of us catch up.
Buy Chasing Someday on iTunes:
Related posts: