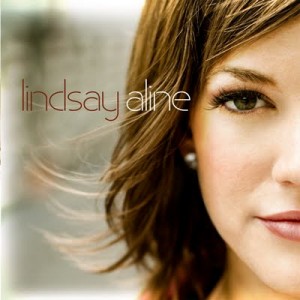 When I was contacted by someone from Lindsay Aline's team to review her 2009 self-titled record, I have to admit I was a little skeptical. Taking a look at the website and reading the self-written bio, I couldn't help but think, Oh, great–another young girl who thinks she's got it.
Yeah, I know it sounds jaded. You want me to be honest, right? (Chalk it up to a combination of first impressions and the fact that I really do wade through a lot of sub-par material to find the good stuff.)
So then I listened to the sample track, and I had another impression….what's the word?…
Stunned.
Yes, that's it.  Stunned.  Surprised.  (Pleasantly surprised.) And put right in my place.  This girl has got it.
So I wrote the guy back and said, "Yes, yes YES, please let me review the album." (Actually, I was a bit more professional and collected. But still.)
Listening to Lindsay Aline's record, I'm reminded of so many things, but with whole different spin. There are elements that remind me of Enya, Evanescence, a female Josh Groban, and just about any female singer on any recent Disney animated film–it's a piano-driven blend of classical, pop, Broadway and just a bit of jazz, but done in a contemporary style that will definitely appeal to a wide audience.  I kept feeling like I'd heard this girl before–but I knew I hadn't actually heard this before. It's a great combination of the familiar and the new. Well-produced, smartly arranged, and captivating.
That said, there's only one glaring flaw I can find with the record.  The track "Belong"? Doesn't. Amid all these intriguing classi-pop sounds is this blase song in the middle that just kind of sits there and doesn't fit the overall vibe of the rest of the album. At all.  They'd do just as well to delete that song on any reprints of the CD, and they'd have a much more consistent and cohesive package.
Having said that, Lindsay Aline has demonstrated a solid vocal presence on this record, and tons of potential. It takes a lot of skill to successfully tackle this kind of genre-blending, especially with the classical elements involved. Because of the sheer magnitude of what she's undertaking here, I can't say Lindsay Aline has arrived–but she's close. With a bit more maturity (both in sound and image), this girl has the makings of a world-class artist.
I've included the first track of the record, "Reach," which I feel has the best of all the elements in the record. It's also the track that won me over and got me to review the record in the first place. This album is definitely worth getting and listening to.