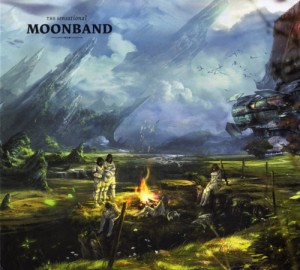 The cool thing about the Internet and indie music is that you're not limited by distance as to what you can find.  So here's a spin on music you don't see every day: a band in Germany, playing Americanized alt-folk, with a space theme.
I don't make this stuff up, folks.
Their name is The Moonband. The name of their record is Songs We Like To Listen To While Traveling Through Space. They sing in English and play American folk. They wear space suits on their album art. (Don't ask me where they got the space suits, but I'm guessing they didn't come from NASA.)
Gimmicky? Perhaps. But the music isn't.  If you listen to the record without all that space stuff in your brain, it's just normal alt-folk, kind of quiet and reflective.  Whether you're into the space theme or not, if you're a fan of bands like bands like Iron and Wine, chance are you'll be into this vibe.