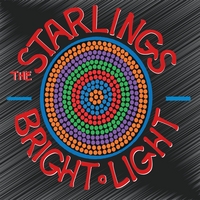 There seem to be two distinct camps these days for the Americana/folk genre, with very little middle ground.  There is no basic "current" form of it; if it's modern, it's "alt-country," and if it's just regular Americana, it sounds almost retro, pretty much the same as it has for decades.  And today's country? Fuggedaboutit. Today's country is basically rock with a twang. Not saying that's bad or anything; just saying.
Listening to The Starlings new record Bright Light, released this past summer, I'd have to place them in the second category, the "old school" brand of Americana/folk.  Again, not saying that's bad, because what they do, they actually do quite well.  This 14-song CD is well-produced and well-played–about as good a recording as any indie project could be without the financial backing of a major label.
At first glance, it might seem a bit unlikely that this band is playing this kind of music.  First of all, we're not talking about the deep south or the dusty western plains; this band is from Seattle.  (However, two of the bandmates migrated there from Iowa, so that might explain things a bit.) Second, Joy Mills, the band's main songwriter and vocalist, has a voice reminiscent of Neko Case–which, of course, suggests perhaps a leaning toward the alt-country category.  But no; this band is solid old-school Americana/folk, with a sound that is more "country" than even modern "country" has become.  And like I said–they are good at it.  Their sound conveys you to a different place, maybe even a different time when things weren't quite so hectic.  It's the kind of sound that makes you want to sit on the back porch with a beer and just watch the sun go down.
Of the fourteen songs on the record, two are standouts for me–and they represent the two emotional poles of the record. "Blue Dog", sung by Tom Parker (the only male in the four-piece band), is a fun, tongue-in-cheek singalong tune, while "Aloysius" sung by Joy Mills is a haunting ballad. I've included both below for you to sample.
If you like their stuff and want to hear more, you can buy their record from their website, or below through iTunes.  If you live in the Denver area, you can check them out live as they come through town this weekend on tour. They'll be joining locals The Hollyfelds at the Hi-Dive on South Broadway on Thursday, Sept. 16, starting at 9:00 PM.