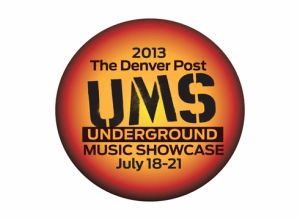 As the Underground Music Showcase (UMS) is my favorite festival of the year (and it certainly helps that I only have to drive a few miles to get to it), I like to debrief a little bit after each day and share some of the highlights, and perhaps put a few bands on your radar to check out.
As for me, I generally keep my expectations of Day One of the UMS to a minimum, since things are just sort of ramping up, and crowds are generally sparse the first night. It usually takes some time to gain momentum. That wasn't the case this year. Not only were the bands I saw putting their best foot forward from the jump, but this year a lot of people were already around to see it happen. In short–it was a great first night.
Some quick highlights to share with you–and forgive the pics, they're taken with an iPhone (hey, I'm a writer, not a photographer):
Local revival rock act The Wales kicked off the night at the Hi-Dive. They're relative newcomers to the Denver scene and only have a couple of demos up on Bandcamp, but they show promise. Keep your eyes on 'em.
I have discovered I'm a sucker for well-played blues-rock. For some reason I never quite caught, West Water Outlaws had their midnight slot changed to 8:00 PM at the Irish Rover. I managed to stop in for the last few minutes. Hoo, boy. Look for a debut album from them in the fall.
I stayed on at the Irish Rover to catch the first part of soul-rock act Calder's Revolvers, on the advice of a friend. Glad I lingered. I'll definitely be watching for these guys.
Denver food establishment Illegal Pete's opened up a new location on S. Broadway just in time for the UMS, and it's worth checking out as a venue on its own. The Jekylls, a 60's pop act comprised of members of The Hollyfelds, The Railbenders and Sunday Girl, were rocking it onstage.
And then there's Varlet, who entertained a crowded Hi-Dive with their quirky, almost cabaret version of indie-rock. (Non-locals might faintly recognize the lead singer there; that's Lily Scott, the indie singer-songwriter who got voted off American Idol Season 9 far too soon, in an early-season shocker.
There were a couple of other highlights I couldn't get pictures of. Andy Palmer's set at The Hornet was one of my faves of the night, but it was too dark to grab a picture without flash. Then there was the guy in a gorilla suit that hi-fived me on Broadway, but it happened so fast that I didn't have the presence of mind to get someone to snap a picture of it.
There are, of course, far too many great bands playing at the UMS to catch them all, and there were some shows I wanted to see that I didn't. So I'll close out the highlights each day with a note of regret…
SHOWS I WISHED I'D SEEN:
On to Day Two…