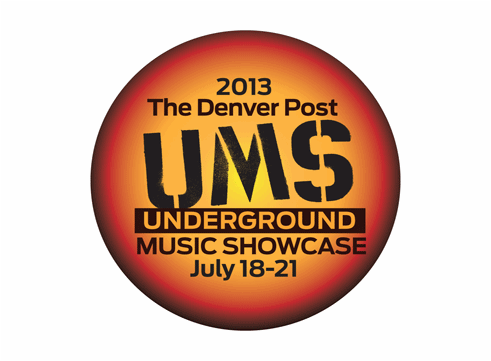 Momentum for the 2013 Underground Music Showcase is definitely increasing. More crowds, more bands, comfortable evening weather and dynamic performances were the norm last night at the UMS, as the Baker district filled with music and music lovers.
I tend to focus on local talent, so to my shame, I missed headliner Mudhoney at the main stage, although I heard from several sources that the band was outstanding. (I had "mudhoney" ice cream at Sweet Action–does that count?) I did, however, manage to catch a few minutes of LA-based girl pop-punk band Bleached on my way from one local act to another–and that was worth the detour.
Some other highlights from Day Two:
Indie-rockers The Belle Jar started off playing to a sparse crowd at 3 Kings Tavern, but by the end of the set the venue area was full–partly because people finally started navigating through Denver's Friday night traffic, and partly, I think, because word was spreading about them while they played. A great way to kick off the evening.
Guitarist Ryan Chrys has a well-established reputation in Denver for his crazy guitar work in The Demon Funkies, but his newly formed country act, Ryan Chrys and the Rough Cuts, is gaining traction as well. I managed to catch a few minutes of their set at The Hornet.
New Denver "supergroup" Hollow Talk (comprised of members of d.biddle, Il Cattivo and Ideal Feathers) played a loud and raucous set at the Hi-Dive. The backlighting was cool live but hard to catch on the iPhone…but you can see 'em if you squint a little.
Besides the main outdoor stage, it seems the place to be last night was the Irish Rover. Absolutely packed with people for most of the night. I couldn't get close enough to get pics of Sweet Tooth Meat Tooth or The Raven and the Writing Desk, but both sets were awesome. (I would have loved to see how TRATWD managed on that tiny stage with six people, a keyboard, drums and a marimba–but I just couldn't get close enough to find out.) I did manage to squeeze to the front just enough to grab a picture or two of Science Partner, who also killed it.
Other acts I caught in passing that are worth mentioning last night were Gristle Gals at Illegal Pete's (caught the sound check on my way to Belle Jar), and Ivory Circle and Shenandoah Davis at Gary Lee's. All worth checking out. Also, the few minutes I caught of Common Anomaly's set at Skylark Lounge were impressive.
ACTS I WISH I'D SEEN:
Mudhoney (obviously)
Esme Patterson
Thee Dang Dangs
Chimney Choir
Princess Music
A. Tom Collins
Bop Skizzum
Ark Life
Big day today: Day 3!!