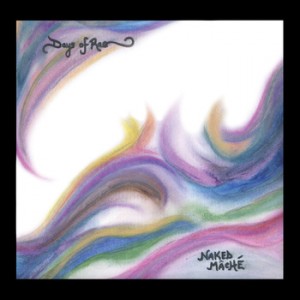 Picking music to write about is not an exact science for any music blogger. Music is just too subjective for that. For me, out of the many music submissions I get, I choose not just to write about those artists who have all their ducks in a row, but also artists with potential. Also, contrary to common belief, I don't just write about bands from Denver, although I keep a running joke about that.

Generally what prompts me to write about a band or act is when something in their music captures my attention, and makes me want to hear more.
Days of Rae falls into that category.
When Cherie Rae Cobbs, part of the wife/husband team that heads up Days of Rae, contacted me to let me know their Minnesota-based act was relocating to Denver, and asked me for my thoughts about their record Naked Maché, I understandably had no idea who they were. But the first few seconds of the first song got my attention, and definitely made me want to hear more. The record contains moments of brilliance with interesting arrangements, catchy melodic hooks (which anyone who reads this blog knows I'm a sucker for), and a unique overall sound.
That isn't to say the record isn't without its flaws, or that the band doesn't have some growing to do. In between those moments of brilliance I spoke of earlier, there are also places where the music feels kind of washed out. As I listened, I found myself sometimes losing interest by a mixture of bland melody lines, pitch/tuning issues and occasional rhythmic sloppiness…and then another moment of brilliance would come and wake me up again.
So, yes, Days of Rae makes me want to hear more–I want to hear more of those moments of brilliance that made me take notice. If I take this record as a snapshot of the band, I'd say Days of Rae definitely has what it takes to make it–they just need to evolve and grow a bit. The elements of greatness are present; now it's time for those elements to be worked throughout the music like spices in a stew, so they appear throughout the songs, and not just in a few brilliant places.
Geesh, I sound like a chef or something.
So…more, please. I look forward to hearing more from Days of Rae, and since they're going to be local, I look forward to watching their evolution from here.  Meanwhile, take a listen to "Paperdolls," the opening track from Naked Maché. IMHO, it's the catchiest tune on the record–and it's the song that initially made me want to hear more. And if it makes you want to hear more, you can download the whole record here, and name your price for it.