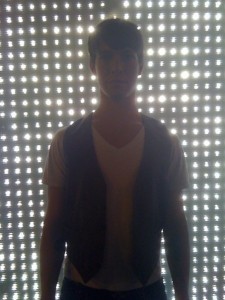 One cool thing about indie music is the diversity and creativity you find in it.  Two indie acts can easily sound like they are worlds apart.  The flip side, though, is that sometimes indie music can be so far on the creative margins that not many people can relate to it.  It takes a certain amount of skill to be both creative and accessible as an indie artist.
Listening to Dead Letters, the latest release from indie-pop/rock artist Joshua Novak, I'm finding that combination. This is a nine-song collection of original tunes, creatively arranged and well-executed, carrying just a hint of a retro vibe, all overlaid with Novak's signature falsetto vocals. The cool thing about the songs is that musically, they don't leave you scratching your head going, "What was that?" They are accessible and singable, and they play well both in the background or in the foreground.
The first sample I put below underscores probably the best part about this record.  It's a simple arrangement–only vocal and guitar, with just a bit of percussion.  My point?  It's a good song; it plays well without a lot of bells and whistles.  And that's the nature of the songwriting on this record. There are a lot of creative arrangements, but the record doesn't rely on those.  Good songs are the backbone of a good record.  And this one has a solid backbone.