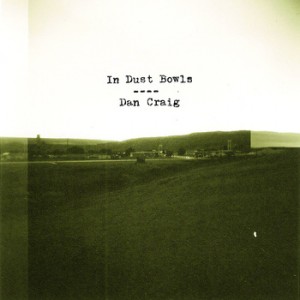 It's rather surprising that Dan Craig even has time these days to put out a new record. Besides being one of Denver's premiere singer/songwriters, he's also a med student, a husband, and recently a new father.
Actually, though, this gem of an EP, In Dust Bowls, already had the groundwork laid for it. According to Craig, this project (a collaboration with producer/engineer Jamie Mefford) was started and shelved several times over the past several years, and the current project has been basically complete for about a year. It just seemed that now was the right time to finish it up and release it.
In Dust Bowls is quite a digression from Dan Craig's last project Alchemy (reviewed here)–a much more reflective, downtempo effort, with an atmospheric, almost dreamy quality to it (if acoustic folk can be thought of as "dreamy", then this is what it sounds like). The six songs in progression tell a story of love lost, and found again, and for that reason the songs are best heard together in sequence, rather than individually.
I've given this record several spins now, and I like it more and more each time. Dan's melodies are contagious, his lyricism creative and thought-provoking. In Dust Bowls has been a long time coming, but I for one am glad it is here.
Dan has permitted me to share the first track "Down My Legs" below. If you like it and want to hear more, the record is currently available as a download from Dan's Bandcamp site, or from iTunes.