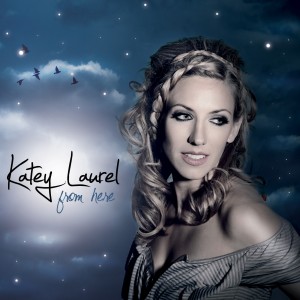 With all the music I listen to in my role as a blogger, one thing I truly enjoy is observing the growth of an artist–to see how a musician progresses from one record to the next.  I love it when the new record is better than the last.
Take Denver-based singer/songwriter Katey Laurel, for instance.  I haven't reviewed her music before now on this blog, but this new record From Here isn't the first time I've heard her. We first connected about a year ago, when she sent me a copy of her record Upstairs Downstairs, which at that time was already a couple of years old. The songs and the record's production value were presentable enough, but when she mentioned she was working on some new stuff, I decided to wait to hear what she did next, and review her more current material.
The amount of artistic growth reflected in this new record, compared to the previous one, is nothing short of remarkable. If these two records were pencil marks on the wall, Katey Laurel just grew a foot. The songwriting has taken a quantum leap forward, with well-crafted lyrics and solid melody lines. The arrangements are current. The production value is excellent.  But all that is not even the best part.
Katey Laurel has one of those unmistakable voices that is instantly recognized–a huge plus for any artist, but it can be a double-edged sword, because like a diamond, it really has to be placed in the right setting in order for it to shine.  For me, the most satisfying element of this record is that each of the eight songs on it is an excellent setting for her voice.  Katey's producer did a fantastic job of making sure her greatest qualities as an artist–both as a vocalist and as a songwriter–have been placed front and center. The result is a set of songs that could easily be pitched for radio airplay.
The songs on From Here are pretty solidly in the AAA market–mainly love songs with a hint of country and even an occasional splash of jazz–so don't go looking for anything wildly experimental, because that's not the record's intent, anyhow. But in my humble opinion, this record marks a personal artistic breakthrough for the artist.  Katey Laurel has taken it to the next level.
Buy From Here on iTunes: