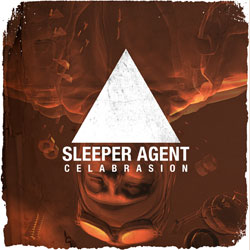 Okay, I'm gonna be honest: I wasn't too big on reviewing Sleeper Agent's debut record Celebrasion. I first heard this indie-rock act when they came through town on tour last spring with Cage the Elephant. Their set was energetic, but really sloppy, like they had just came out of the garage. I remembered wondering how in the WORLD they got an opening tour slot with a hot band like Cage.  When I found out they were from Bowling Green, KY, I put two and two together: they prob'ly got the gig because the two bands are friends. But I heard nothing in their music to make me think this band actually deserved this kind of tour.
So a few weeks ago, Sleeper Agent came through town again, this time on their own, playing a much tinier venue. Against my better judgment, I went to see them play–and they had definitely improved. At the very least, it felt like this smaller venue fit them, rather than swallowing them up.
And THEN I spun their record Celebrasion, and that completely turned my opinion in their favor. I'm now a fan.
Except for recognizing some of the tunes, I'd never know this was the same band I heard a few months ago. The production value is excellent, their melodies are totally singable, and their sound is raw but well put together–high energy, catchy alt-rock with a touch of retro. The tracklist is consistent throughout, a great selection of tunes that defines the band's sound but also shows off its range.
It's also interesting to note that Sleeper Agent has only been around since 2010, and that puts things a little bit more in perspective. When I consider that a band less than two years old has made this much progress–and I can personally tell the difference within the past few months–this band is growing rapidly, and is well on their way. I'd say Sleeper Agent has plenty of cause to celebrate.
Sleeper Agent: "Some White Blinds"
Buy Celebrasion on itunes: