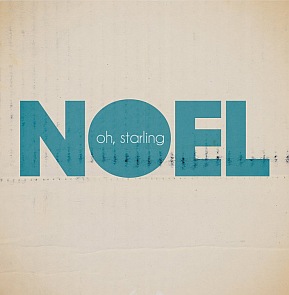 I swear this blog is not becoming exclusively about Denver music.  It's just that the past few weeks have been a flurry of activity and new releases around here.
Oh, Starling doesn't seem to be a constant entity; it comes around once  year, during the holidays.  Actually, Oh, Starling consists of indie artists Dan Craig (whose record was recently reviewed here) and  Jessica Sonner, who happens to be married to Dan.  Last year, they recorded an EP of re-worked Christmas music called Joy, under their special holiday moniker.  This year, they have released a follow-up holiday EP, Noel.
Far too many times, artists go over the top in re-arranging the holiday classics, to the point that they come off as cheesy or self-indulgent.  By contrast–I took a listen to the track below, "Hark", which Oh, Starling is offering as a free download from their website for a limited time.  It took my breath away.  A completely different rendition, tasteful, passionate, and real. One of the best modern re-workings I've heard, and by indie artists to boot.
If you're in Denver this upcoming weekend (December 10), you can catch Oh, Starling performing at a special free concert at The Meadowlark Bar.  The show starts at 9:00.