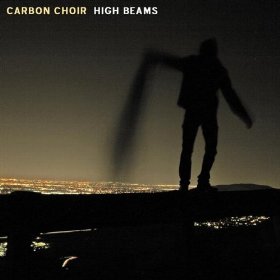 In the many attempts of indie music to break the mold created by the mainstream and come up with something new, I hear a lot of experimental rock that sounds more like chaos than anything else.  When you get a lot of these bands exploring all this new ground, ironically, they all tend to run together in their experimentalism.
But when Denver-Boulder band Carbon Choir sent me a copy of their latest release, High Beams, I was refreshingly surprised by their particular flavor of atmospheric rock.  Yes, it's out of the mainstream, and yes, it's experimental.  But it's also highly intelligent music, blending reflective falsetto vocals with ethereal guitars and intricate (yet accurate) rhythms in a sonic mix that actually works.  You'll probably hear Radiohead and Coldplay influences, but this is definitely not a carbon copy band. 
I look forward to hearing these guys play live, and since they are local, I expect I will soon.
Take a listen for yourself.
Carbon Choir: "Measure of Your Madness"
Download the record from itunes here: High Beams – Carbon Choir