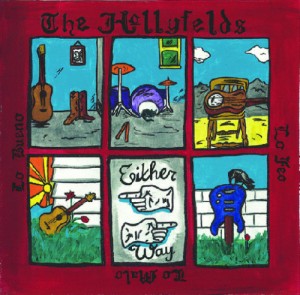 I don't know if there's an official genre called retro-country.  (If there isn't, I'm sure we could just make it up.  You can do that these days, you know.)
Anywho…if retro-country is a genre, that's the best way to describe the sound of Denver locals The Hollyfelds.  (That's FELDS, not FIELDS.)  Hearing their music and/or seeing them play live definitely reminds you of days gone by, when country was country-western, not just rock & roll put out to pasture.
And yet, there's a modern element in there as well.  It doesn't sound exactly like old-school country; there's a distinct alt-indie vibe in there. Almost like an indie band went back in time to the fifties, attended a hoe-down (the retro meaning–keep it clean, folks) and came back sounding like this.  Or maybe the other way around, like a 50′s country band came to the future, picked up some alternative vibes, and went back…well, make up your own mind.  You get the idea. Either way, they are a fun band to listen to.
True to the retro vibe, the Hollyfelds are releasing a two-song "EP" this weekend, entitled, Lo Bueno, Lo Malo, Lo Feo, on 7″ vinyl record–just like the 45-speed records my kid once thought were just oversized CDs.  AND…true to the modern vibe that is also part of The Hollyfelds…the two songs will also be available by digital download.  You can hear one of the songs below.
The Hollyfelds: "How To Be Gone"
BTW…that EP title.  It sort of makes me want to whistle the theme song of a Clint Eastwood spaghetti western.  In Spanish.
If you're in Denver this weekend, you can catch the Hollyfeld's EP release party this Saturday, May 22, at the Meadowlark Bar.  Details are posted on my weekend picks on Examiner.com.
Related posts: