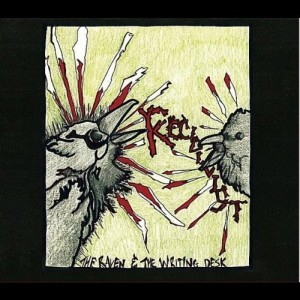 Sometimes what you name something is important.
The Raven and The Writing Desk.  When I first read the name of this haunting indie-pop band, my attention was immediately arrested. Instantly my brain created associations with Edgar Allen Poe, C.S. Lewis, and that old video game Myst. What an interesting name; it suggests what you're about to hear would be best listened to while sitting in an old wood-paneled library, smoking a pipe.
Turns out the name fits the band's sound quite well. Their record Recidivist is described on the band's MySpace page described as a concept album in which the songs "center around tragic characters who have fallen victim to their cyclical existences." (The word "recidivist" refers to a criminal who continues to repeat the offense, so the title fits, as well.)  I heard the record before reading the description, and that vibe was very easy to pick up.  It isn't just that the songs tell a story; the sound tells the story.  An interesting blend of the familiar and the experimental, this is piano-driven indie-pop overlaid with haunting violin and guitar, providing an almost theatrical backdrop for frontwoman Julia LiBissi's emotional, expressive vocals.
I don't think I've ever used the term "literary" to describe a band's sound, but to me there's no better word to describe The Raven and The Writing Desk. When I listen to them, it sounds like musical literature.  The music is an experience in itself, taking you into another time and place.  Not bad for a band who is barely a year old.

I've put up the first track here, but being a concept record, Recidivist is best listened to in full.  So if you like the opening act, go to iTunes and pick up the record.
The Raven and The Writing Desk: "Somnambulist"
Buy Recidivist on iTunes: