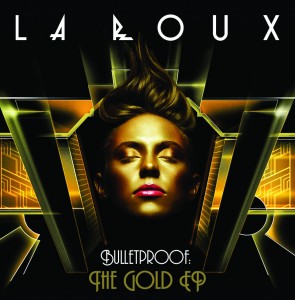 If you are into British electropop (or listen to American Top-40 radio), you have probably heard the song "Bulletproof" by La Roux.  It's become a bit of a dance anthem, simple but catchy.
Interestingly, understanding who La Roux is can be a study in itself. La Roux is not frontwoman-redhead Elly Jackson (even though the moniker might suggest it). La Roux is a duo–a band.  However, the other half of La Roux, Ben Langmaid, doesn't play live with the band; three other supporting musicians take that role.   So…La Roux is a duo, but you won't see them play together, because one half of La Roux goes on tour with three other musicians, while the other half stays home.  Get it?

Another anomaly: Elly Jackson's roots are in folk music.  Go figure.
Anyhow, today La Roux is releasing The Gold EP, a set of remixes and a live performance of Bulletproof.  It's only available by download. Also, La Roux has announced summer tour dates in the US, including a stop in Denver.  Check it out below, and check out the video montage from Coachella.
5/30     Houston, TX                     House Of Blues
6/01      Austin, TX                         La Zona Rosa
6/02     Dallas, TX                           House of Blues
6/5        Denver, CO                        Ogden Theatre
6/7        New York, NY                  Terminal 5
7/14      San Diego, CA                    4th & B
7/15      Los Angeles, CA               Nokia Theatre
7/17     Chicago, IL                         Lilith Fair
7/18      Minneapolis, MN            Lilith Fair
7/20     Indianapolis, IN              Lilith Fair
7/21      Detroit, MI                         Lilith Fair
7/22     Montreal, QB CAN           Lilith Fair
7/24     Toronto, ON CAN            Lilith Fair
7/27     Washington D.C.              9:30 Club
7/28     Baltimore, MD                  Rams Head
7/29     Philadelphia, PA              Trocadero
7/31      Atlanta, GA                        Variety
8/1         Orlando, FL                        Social
8/3        Tampa, FL                          Czar
8/4        Ft.Lauderdale, FL           Culture Room
8/6        Miami Beach, FL              Mansion
Buy "The Gold EP" on Amazon