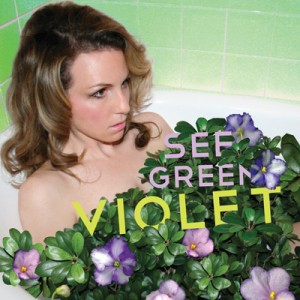 I've gotten a few emails in the past few months by Courtney Green, the frontwoman for California indie-pop band See Green, about reviewing the band;  but to tell the truth, it was a busy time, and without my having a lot of direct connection to California indie acts, See Green got sort of lost in the shuffle.
My bad.  I should have been paying attention.
Although I never got around to covering See Green, their tune "Think Twice" made its way onto my ipod. And I've noticed that every time that song comes up on shuffle, it makes me stop and listen.  It's just got a really catchy sound. This morning, the song came up again–and finally, this Los Angeles-based band got my attention.
My apologies, Courtney and crew; better late than never.

That said, this tune is definitely worth a listen, as is the band's latest effort Violet. See Green has this danceable alt-indie-pop vibe that has a modern feel while drawing from several retro elements. I hear a little bit of Brit-synth-pop, a little bit of California surf–just a great vibe overall.  Really draws me in.
On a side note…maybe I'm late to the proverbial party here, but See Green isn't the first California indie-pop act to reach out, and I'm noticing a consistent sound with them–perhaps an emergence of a specific new California sound.  I first noticed it with San Francisco's Music For Animals. Maybe someone already has named this new California sound, but just for kicks, I'm going to name it "Cali-pop" and see if anyone picks it up.
Take a listen to See Green's "Think Twice", then watch the video.  See what you think.
Buy Violet from iTunes: