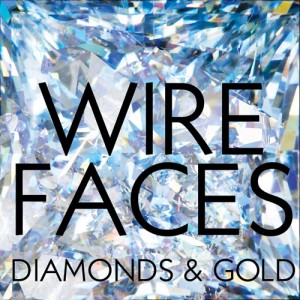 So I just got a listen to Diamonds & Gold, the new EP from Ft. Collins-based post-punk band Wire Faces released in March. I must say I'm surprised that they haven't shown up on my radar before now. (Not that I'm omniscient or anything…)
Let's just say it takes a little innovation for a three-piece band to fill the sonic space the way these guys do–they make drums, bass and guitar go a long way, both in musicianship and energy, giving off the pleasant illusion that you're listening to a bigger band, when actually you're hearing three guys playing the heck out of three instruments.
As to musical style–to me, Wire Faces has a neo-retro vibe vaguely reminiscent of The Killers, except more guitar driven (i.e., no synth), and a lot less tame. Vocalist/drummer Shane Zweygart, who handles most of the vocal work, frequently lets his voice fly passionately into pitchy territory, but does so in such a way that is actually quite satisfying.
Take a listen to the track "Tame You" from the new EP, and watch the video below from Wire Faces' first record. See what you think.
Download Diamonds & Gold: