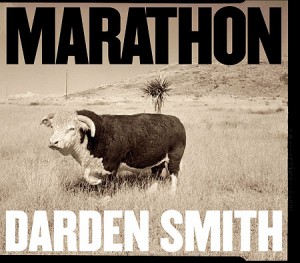 Just so you know…I'm not really intending to focus all my attention on just indie-folk or Americana  country projects.  It's just that those are the titles that have been accumulating on my submissions list.

Anywho…I got a listen yesterday to Darden Smith's latest project Marathon, due to be released in the states on September 28. Actually, "project" really is a good description for it; according to Smith's website, Marathon is also a theatrical work in progress (which totally makes sense when you listen to the record), and soon to be a book/music project, as well.  The title is appropriate, as well–although named after a town in west Texas, Smith says the concept for Marathon has been around for a decade.
What I found most striking about the record is that it sounds more old "western" than most country/Americana efforts these days.  Really.  You can almost feel the dust in your eyes, or see the tumbleweeds rolling by–or perhaps imagine a couple of gunslingers facing each other down at high noon.  Definitely a concept record, the main tracks are punctuated by several instrumental breathers.  In fact, I must say that the instrumentals are the strongest parts of the record–every time I heard one, I was disappointed when it ended.  Additionally, props are due for the instrumentation throughout the project–very professional, very well done.
So that's the good stuff.  In my view, the album's weakness  is found in the songwriting–in particular, bland melody lines (something that seems to plague many indie projects).  Darden Smith's raspy voice is memorable in itself (reminds me of the late Rich Mullins, if any CCM fans are reading this).  But with the exception of the ending track "No One Gets Out of Here," I had a hard time identifying any strong melodies.  I found myself toiling through the regular songs, waiting for the amazing interludes in between them.  Just saying.
That said, Marathon is at the least a very respectable project, the product of a great deal of work and thought. To give you a sense for the record's thematic feel, I'd recommend listening to the sample tracks below in order.
Local Denver folk will get the chance to hear Darden Smith soon–he'll be making a stop at Swallow Hill on October 2.