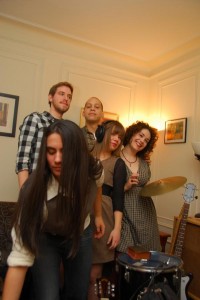 Here's an indie band that's been getting a lot of attention in their part of the world–which just happens to be New Jersey.  In fact, Bern & the Brights has been nominated locally for two Hoboken Music Awards, for Outstanding Band and Outstanding EP.
The EP for which they've been nominated, Swing Shift Maisies, was released back in July.  I've had a chance to listen to it, and I can see to some extent what the stir is about.  Bern & the Brights have a distinctive sound, with elements of roots, rock and progressive country, overlaid with lead singer Bernadette Malavarca's eclectic vocal quality. Their sound sets them apart from the pack, and is definitely their strongest asset.
Perhaps the one weakness I found with Swing Shift Maisies is that although there are definitely catchy moments on the record, there was also some melodic "dead space"–times when their amazing sound actually didn't seem to be going anywhere due to a bland melodic line. It wasn't that I felt the band lacks potential–more like I felt there were places where the potential wasn't fully reached.  Bern & the Brights is definitely a promising band; what they need to take them over the top, IMHO, is simply a few more strong songs in their arsenal to carry their distinct sound.
That said, this is a band well on their way.  Take a listen and see what you think.
Bern & the Brights:
Bernadette Malavarca – lead guitar/vocals/percussion
Catherine McGowan – acoustic guitar/vocals
Nicole Scorsone – violin
Shawn Fafara – bass
Jose Ulloa – drums
Bern & the Brights: "Sangria Peaches"
 Buy the EP on itunes: