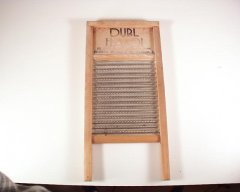 Well, I suppose it was bound to happen.
I commented here on Friday about all the roots-acoustic-indie bands at the UMS, and quipped how I was surprised nobody pulled out a washboard. 
You know what's coming, don't you?
During Ayo Awosika's solo set Saturday night, she announced that she and singer/songwriter Megan Burtt had started a duo called Travel By Skylark and were having their debut performance Sunday night–and among the instruments she said they'd be playing?
Yup. 
Obviously I had to go and see this spectacle.  So on this Sunday, I swapped out some of my scheduled stops at the UMS to watch the official launch of Travel By Skylark at The Irish Rover.  Sure enough, they pulled out a washboard for one of the songs.  They even dedicated the song to me.
Yeah, I went and told Megan about my snide bloggy remark.  Me and my big mouth.

Fun and games aside, though–Travel By Skylark's debut performance went very well.  They won over the crowd from the first song, and the response remained enthusiastic throughout. Their sound together is folky, but not retro–even with the washboard, which Ayo played quite well, BTW. It was a great experience to see these two young women, both highly talented artists in their own right, coming together for the fun of it to play new material, just because they enjoy playing together.  Travel by Skylark gets my mark as Sunday's highlight of the day–and not just because they dedicated the song to me.  (Believe what you want.  My vote can't be bought with song dedications–only with cold, hard cash.)
That was a joke, too.  You'll just have to get used to that.  Can you tell I'm a little loopy this morning?
I was moving a lot slower Sunday, so I didn't catch as many acts as the other days. But I did manage to catch most of an informative panel discussion on indie bands and recording studios, and I also managed to stop in and see:
Rachel James and Brighton Boulevard (pop/rock)
Maudlin (indie-rock)
Annie Lynch (folk)
Josh Novak (pop/rock)
I tried to catch Hello Kavita, but apparently illness prevented the band from playing.  Their replacement was The Photo Atlas, whom I'd seen before, so I chose to move on and try to catch someone I hadn't seen.
Before wrapping up my journal of this year's UMS, an honorable mention also goes to Rachel James and Brighton Boulevard, who played in a small venue to a sparse crowd, but did a great job.
Looking forward to next year!